Technology to build computing devices using quantum-mechanical effects has seen a tremendous acceleration in the past few years. The advantage of quantum computers over classical devices lies in the possibility of using quantum superposition effects of n qubits to perform exponentially growing (2n) computations in parallel. This effect makes it possible to reduce the computational complexity of certain classes of problems, such as optimisation, sampling, combinatorial or factorisation problems.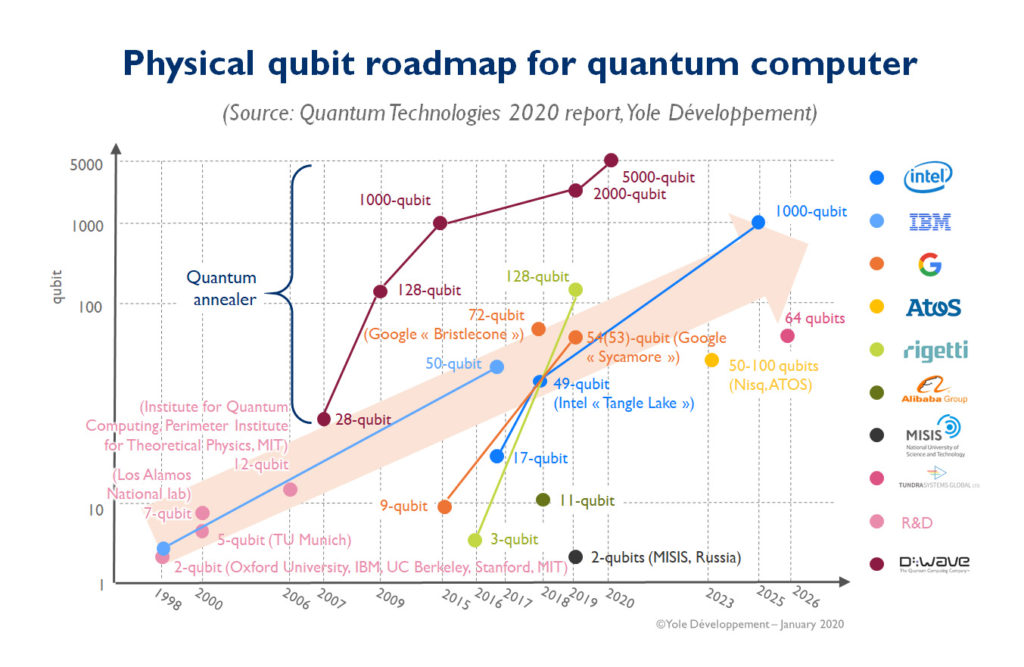 Over recent years, quantum algorithms, characterised by lower computational complexity than their classical counterparts, have been discovered. These algorithms require large scale fault-tolerant quantum computers. In contrast, today, we have access to the Noisy Intermediate-Scale Quantum (NISQ) hardware dominated by short coherence time (noise), a small number of qubits (from a few tens up to few thousands, in the case of quantum annealers) and limited lattice connectivity (in most cases, only the nearest neighbouring qubits interact).
These limitations led to numerous investigations towards the design and optimisation of NISQ algorithms that demonstrate a quantum advantage over the current hardware.
The long-term goals in the field of Quantum Computing and Algorithms are to:
Formalise and extend the existing catalogue of use cases and examples of possible applications of quantum computing to HEP workflows and algorithms.
Collect and share information about existing resources, tools, libraries, and collaborations across the community, with a particular focus on simulators (e.g. IBM Qiskit, Google Cirq, Intel IQS, Amazon Braket, Strawberry Fields, t|ket> and more cf. https://quantiki.org/wiki/list-qc-simulators).
Design and deploy a distributed infrastructure for quantum computing and simulation, based on existing distributed computing expertise, to make resources and tools easily accessible to researchers, thus enabling investigations to be performed as part of community projects.
Identify and coordinate access to computing resources, both for simulators and actual quantum hardware, in collaboration with other Institutes or companies. Resources can come from on-premise, cloud and HPC providers.
Use the infrastructure to set up R&D projects to adapt or design algorithms for quantum platforms and benchmark their current and potential performance.
Ongoing Projects
Fundamental work is done today in the HEP community and in many other scientific research and industrial domains to design efficient, robust training algorithms for different learning networks.
Initial pilot projects have been set up at CERN in collaboration with other HEP institutes worldwide (as part of the CERN openlab quantum-computing programme in the IT Department) on quantum machine learning (QML). These are developing basic prototypes of quantum versions of several algorithms, which are being evaluated by LHC experiments.
Information about some of the ongoing projects can be found below.